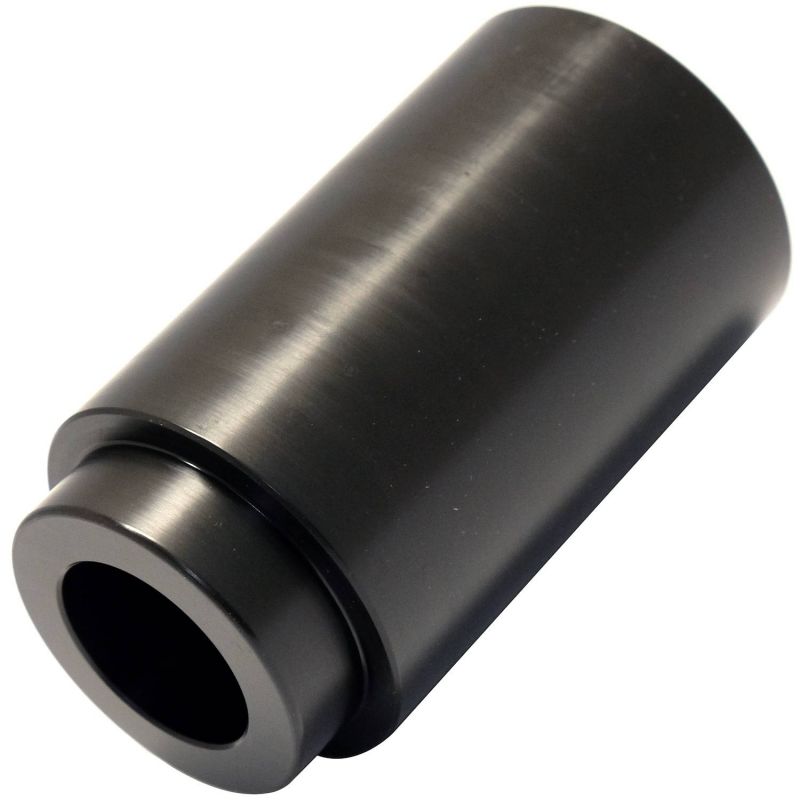  
Crankshaft seal installer tool Easyboost Yamaha Aerox Bw's Jog R
The crankshaft seal installer tool Easyboost allows you to easily mount the oil seals behind the variator and the ignition of your Yamaha Bw's, Aerox, Slider (Minarelli vertical and horizontal AC/LC engine)



The Easyboost crankshaft seal installer tool allows you to easily and accurately mount the oil seals behind the variator and ignition of your Yamaha Bw's, Aerox, Slider (Minarelli vertical and horizontal AC/LC engine)
The manufacture was carried out on CNC in Polyamide PA66 which is a soft and resistant material. The aluminium housing is relatively fragile, so the choice of this material ensures that it is not damaged when in contact with it.
This is an essential tool for correct assembly of the oil seals and and to ensure proper lubrication of the bearings. The shoulder on the tool positions the seal exactly as it was originally. To mount the oil seal on the ignition side, simply turn the tool over and repeat the same operation, tapping on the tool with a mallet.
The tool is compatible with all Minarelli Vertical (MBK Booster, Stunt, Yamaha Bw's, Next, Rocket...) and Horizontal (Nitro, Aerox, Mach G, Jog R, Aprilia SR, Ovetto, Neo's...


Compatibility
Amico
Amico GL
Area 51
Gulliver
Rally
Scarabeo (Minarelli Horizontal)
Scarabeo DD (Minarelli horizontal)
Sonic AC
Sonic LC
SR (Minarelli Horizontal LC)
SR Netscaper (Minarelli Horizontal LC)
SR Replica (Minarelli Horizontal LC)
SR Replica (Minarelli Vertical)
SR Stealth (Minarelli Horizontal LC)
SR WWW AC (Minarelli Horizontal)
SR WWW LC (Minarelli Horizontal)

491 GT AC
491 Racing LC
491 RR LC
491 Sport LC
491 ST AC
Devil LC
K2 AC
K2 LC
Naked
Pepe AC
Pepe LX
Quattronove

Aragon City
Aragon GP
Formula R
Freaky
GTR 50 LC
Hussar
Oliver
Popcorn

Cracker
Epico
Evolution
Ideo
Onyx
Race
Race II
Roc
Roc II
Toxic
Xor 50
Xor II 50

Bazooka I
Bazooka II
Dragster
Formula
Pista 2
Scoop

ARK AC
ARK LC
Chrono
GO
Quadra

Centro
Centro SL1
Centro SL2
Ciak
Crosser CR1
Crosser EL
F10
F10 Wap
F12 Phantom AC
F12 Phantom LC
F12 Phantom R
F15 Firefox
Yesterday

Booster Naked
Booster Naked 12"
Booster Naked 13"
Booster Next Generation
Booster Next Generation II
Booster Original
Booster Road
Booster Rocket
Booster Spirit
Booster Spirit 12"
Booster Track
Equalis
Evolis
Fizz
Flipper
Forte
Hot Champ
Mach G AC
Mach G LC
Nitro
Nitro F1
Nitro Naked
Ovetto
Ovetto One
Stunt
Stunt Naked

Speedforce
Speedjet
Speedjet R (LC)
SX1

Aerox
Aerox Naked II
Aerox SP
Bw's
Bw's Bump
Bw's Easy
Bw's Naked
Bw's Next Generation
Bw's Next Generation II
Bw's Original
Bw's R
Bw's Spy
Jog R AC
Jog RR LC
Jog Z
Jog ZR
Neo's
Slider
Slider Naked
Why
Zest

Reviews
Rated
5.00
on the scale
1
-
5
based on
3
customer reviews
Comme je l'ai dit dans le titre, c'est un produit de très bonne qualité... travaillé sur mesure afin de pouvoir offrir un montage au millimètre près des joint spi, je le recommande à 100%.<br /> <br /> Jamais déçu... Easyboost? Valeur sûre !
vraiment bien pour monté le joint spy de variateur sur mon nitro car avant il sortait tout le temps et j'avais des prise d'air.
j'ai pu le tester en avant premiere, ras!