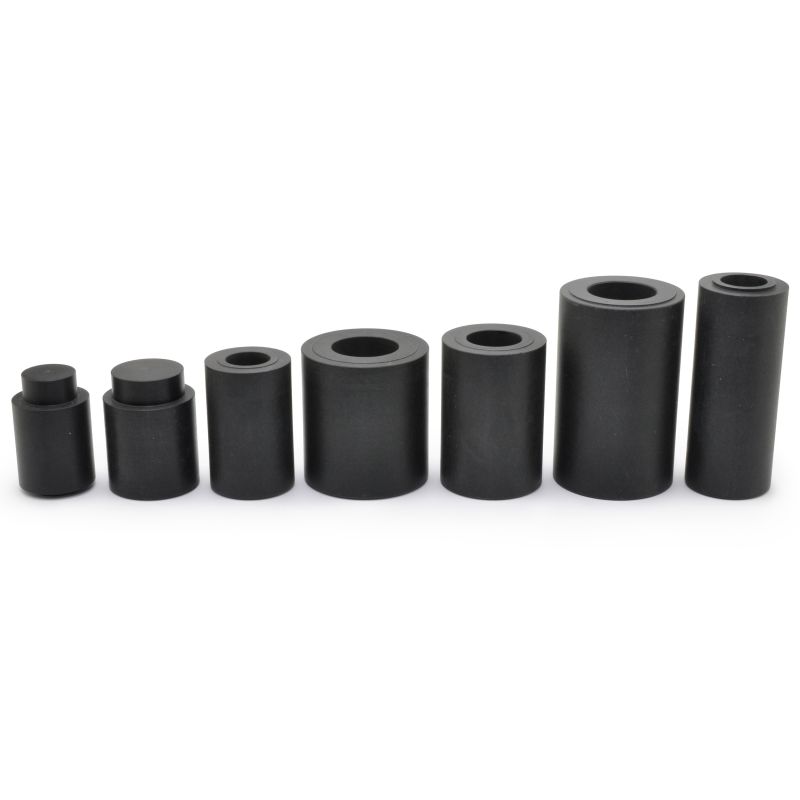  
Easyboost seals assembly tools for Derbi Euro 2-3-4
The Easyboost Derbi engine seal fitting tools make it easy to fit all Derbi engine seals (Derbi Euro 2, Euro 3 and Euro 4)
Easyboost tools are CNC machined from polyamide, a material that is both soft and strong. As the aluminium casing is relatively fragile, the choice of this material means that it will not be damaged when it comes into contact with it.
These tools are essential for correctly fitting the seals and ensuring that the engine runs smoothly. The shoulder on the tool stops the movement of the seal and positions it exactly as it was originally.
The tools are used to install the 2 crankshaft seals, the selector seal, the gearbox output pinion seal, the clutch rod seal, the kick starter seal and the water pump seal.
The kit includes 7 tools and detailed instructions for use.
Compatibility
RS (D50B0) après 2005
RS4 (D50B0) après 2005
RX Enduro (D50B0) après 2005
SX SM (D50B0)

Astro Enduro (EBE050) avant 2005
Lobito SM (EBE050) avant 2005

Astro (EBE050) avant 2005
GPR (EBS050) avant 2005
GPR Nude (EBS050) avant 2005
GPR R (EBS050) avant 2005
GPR Racing (EBS050) avant 2005
GPR50 Nude (D50B0) après 2005
GPR50 Racing (D50B0) après 2005
Lobito (EBE050) avant 2005
Senda R (EBE050) avant 2005
Senda R DRD (EBE050) avant 2005
Senda R DRD Devil (EBE050) avant 2005
Senda R DRD Pro (D50B0) après 2005
Senda R DRD Racing (D50B0) après 2005
Senda R DRD Racing (EBE050) avant 2005
Senda R DRD X-Treme (D50B0) après 2005
Senda R Racer (EBE050) avant 2005
Senda R X-Race (D50B0) après 2005
Senda R X-Race (EBE050) avant 2005
Senda R X-Treme (D50B0) après 2005
Senda R X-Treme (EBE050) avant 2005
Senda SM (EBE050) avant 2005
Senda SM DRD (EBE050) avant 2005
Senda SM DRD Evo (D50B0) après 2005
Senda SM DRD Pro (D50B0) après 2005
Senda SM DRD Racing (D50B0) après 2005
Senda SM DRD Racing (EBE050) avant 2005
Senda SM DRD X-Treme (D50B0) après 2005
Senda SM Racer (EBE050) avant 2005
Senda SM X-Race (D50B0) après 2005
Senda SM X-Race (EBE050) avant 2005
Senda SM X-Treme (D50B0) après 2005

Trigger SM (D50B0) après 2005
Trigger X (D50B0) après 2005

GSM (EBE050) avant 2005
H@K (EBE050) avant 2005
RCR (D50B0) après 2005
RCR (EBE050) avant 2005
SMT (D50B0) après 2005
SMT (EBE050) avant 2005
Zulu (EBE050) avant 2005

Racing Naked (D50B0)
Racing RME (D50B0)
Racing Scrambler (D50B0)
Racing SM (D50B0)