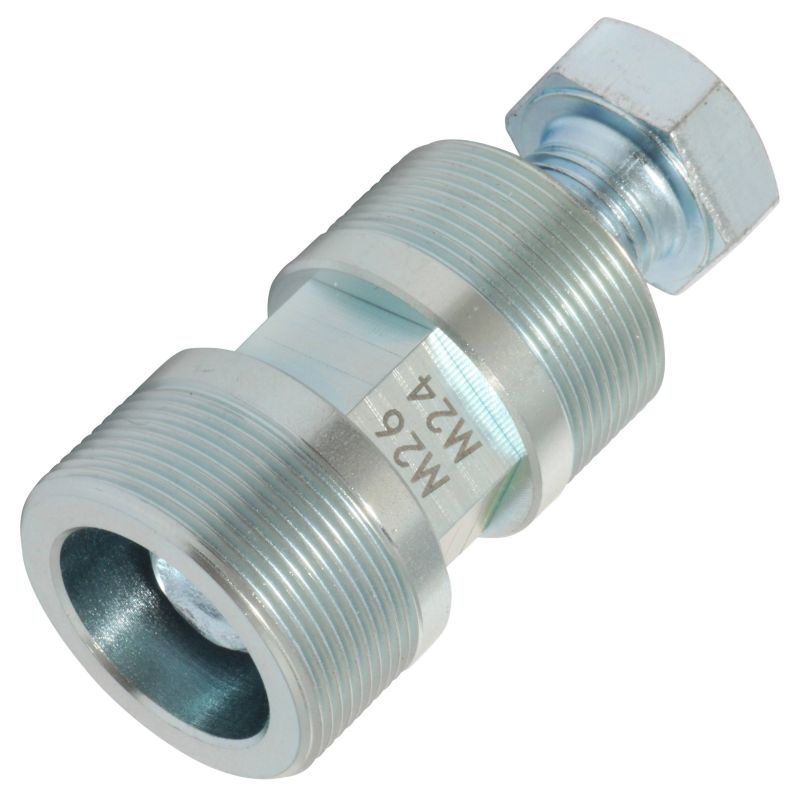  
Easyboost Flywheel Puller M26x1-M24x1 Piaggio 50cc GY6 139QMA QMB Kymco
The M24-M26 Easyboost is made from XC48 steel so you can guarantee a very high quality of manufacture.
The Easyboost flywheel ignition ripper for MBK 51-41-Motobécane-AV7-AV10-Motoconfort Motorbike Cyclo for Vespa-Kymco-Ludix-Trekker-Piag 50cc and for GY6 139QMA-B in M24x1.0 and M26x1.0 will allow you to quickly and easily extract the rotor from your original ignition. This ignition extractor is very easy to put on. Simply screw the main part of the flying peg onto the part provided for this purpose of the original rotor. Using a flat wrench, simply twist the flying peg screw to remove the ignition rotor.
The Easyboost extractor is made in XC38 Steel, which ensures optimum quality and very good strength. The Easyboost M24x1.0 and M26x1.0 flywheel ignition puller is therefore the essential tool to have in your toolbox.
If in doubt about the extractor you need for your original ignition, simply measure the diameter of the tapping in the centre of your ignition rotor using a ruler. The value found must be around 24 or 26 mm.
Compatibility
DNA
Easy Moving
ICE
Runner DD
Runner DT
Runner FL
Runner SP
Stalker
Stalker Naked
Storm

51
881
AV10
AV41
AV65
AV68
AV7
AV87
AV88
AV89
Club
Club Swing
Club VL
Dakota
Evasion
FX Aqua
Hard Rock
Kansas
Mag Max
Magnum Racing
Magnum XR AC
Magnum XR LC
Passion
Phenix
Roadster
Rock
Rock Racing
Salsa
Swing

Diesis
Fly
Free
Liberty
NRG (LC)
NRG MC2
NRG MC2 DD
NRG MC2 DT
NRG MC2 Extreme
NRG MC3 DD
NRG MC3 DT
NRG Power DD
NRG Power DT
NTT
Quartz
Sfera NSL
Sfera RST
Typhoon
Typhoon II
Typhoon X
Typhoon XR
Vespa PK
Vespa PK FL
Vespa PK XL
Vespa S
Vespa Special
Vespa Sprint
Vespa SS
Vespa V
Zip 2T (AC)
Zip Base 2T (AC)
Zip II 2T (LC)
Zip SP 2 2T (LC)
Zip SP 2T (LC)

Related articles on blog
No related article on blog