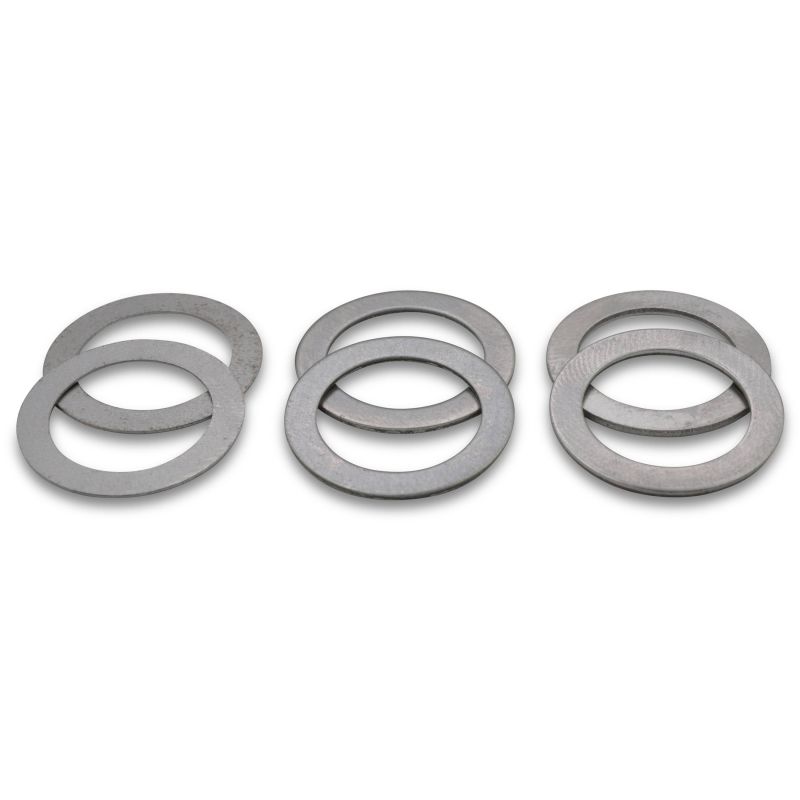  
Variator adjustment washers for MBK Booster Nitro Mach G Ovetto (Ø13x18,5mm)
Indispensable for a perfect adjustment of the variator!
The variator adjustment washers prevent the belt from being squeezed between the variator and the fixed pulley.
In order to achieve optimum acceleration of the scooter, the belt must not be pinched by the fixed variator pulley. 
In order to solve this problem, Easyboost has developed precision washers with a very tight adjustment tolerance. 
The ideal adjustment is as follows: the bottom of the belt should be flush with the hub of the variator (see photos). If this is not the case, the gap must be filled with the adjustment washers. 
Once this essential adjustment has been made, the resulting acceleration gain is impressive.
The delivery contains 6 washers Ø13x18,5mm: 2x 0,4mm, 2x 0,6mm and 2x 0,8mm thick.
Compatibility
Scarabeo (Minarelli Horizontal)
Scarabeo DD (Minarelli horizontal)
SR (Minarelli Horizontal LC)
SR Replica (Minarelli Horizontal LC)
SR Replica (Minarelli Vertical)
SR Stealth (Minarelli Horizontal LC)
SR WWW AC (Minarelli Horizontal)
SR WWW LC (Minarelli Horizontal)

F10
F10 Wap
F12 Phantom AC
F12 Phantom LC
F12 Phantom R

Booster Naked
Booster Naked 12"
Booster Naked 13"
Booster Next Generation
Booster Next Generation II
Booster Original
Booster Road
Booster Rocket
Booster Spirit
Booster Spirit 12"
Booster Track
Equalis
Evolis
Fizz
Flipper
Forte
Hot Champ
Mach G AC
Mach G LC
Nitro
Nitro F1
Nitro Naked
Ovetto
Ovetto One
Stunt
Stunt Naked

Aerox
Aerox Naked II
Aerox SP
Bw's
Bw's Bump
Bw's Easy
Bw's Naked
Bw's Next Generation
Bw's Next Generation II
Bw's Original
Bw's R
Bw's Spy
Jog R AC
Jog RR LC
Jog Z
Jog ZR
Neo's
Slider
Slider Naked
Why
Zest