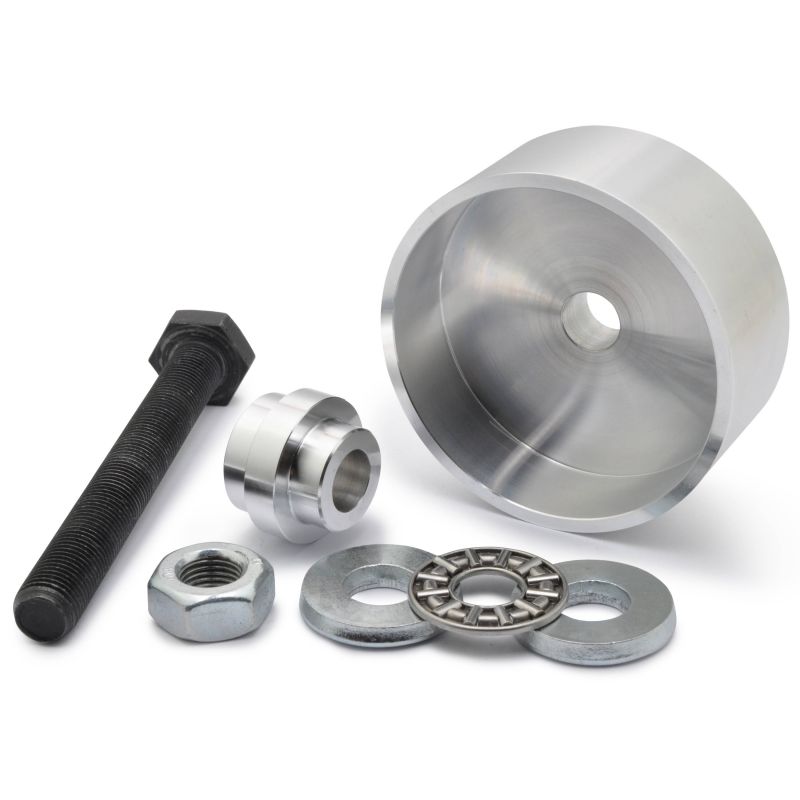  
Crankshaft bearing removal crankcase Easyboost Booster Nitro Peugeot Piaggio AM6 Derbi Scooter Moto 50
The Easyboost crankshaft bearing puller is essential to easily remove the crankshaft bearings from all scooters (MBK, Yamaha, Peugeot, Piaggio, GY6...), Motorcycles 50 (AM6 / Derbi) of the market.
Thanks to an ingenious system, the crankshaft bearing is easily removed without damaging the crankcase.
The bearing puller consists of 2 main aluminium parts, machined on a CNC lathe.
Before removing the bearing, it is advisable to heat the housing to expand it and avoid damaging it, using a heat gun or a welding lamp.
Thanks to the adapter supplied, the Easyboost bearing remover can be used to remove most crankshaft bearings from 50cc scooter or motorbike engines. It can therefore be adapted to bearings with 17 and 20mm inner ring, type 6204, 6303 and Peugeot/Piaggio.
The Easyboost brand guarantees exceptional manufacturing quality.
Compatibility
AF1 (AM6)
MX (AM6)
RS (AM6)
RS (D50B0) après 2005
RS4 (D50B0) après 2005
RX (AM6)
RX Enduro (AM6)
RX Enduro (D50B0) après 2005
SX SM (D50B0)
Tuono (AM6)

Amico
Amico GL
Area 51
Gulliver
Habana Custom (Piaggio)
Mojito Custom (Piaggio)
Rally
Scarabeo (Minarelli Horizontal)
Scarabeo (Piaggio)
Scarabeo Classic (Piaggio)
Scarabeo DD (Minarelli horizontal)
Scarabeo NET (Piaggio)
Scarabeo Street (Piaggio)
Sonic AC
Sonic LC
SR (Minarelli Horizontal LC)
SR Factory (Piaggio)
SR Netscaper (Minarelli Horizontal LC)
SR Racing (Piaggio)
SR Replica (Minarelli Horizontal LC)
SR Replica (Minarelli Vertical)
SR Replica (Piaggio)
SR Sport (Piaggio)
SR Stealth (Minarelli Horizontal LC)
SR Street (Piaggio)
SR WWW AC (Minarelli Horizontal)
SR WWW LC (Minarelli Horizontal)

491 GT AC
491 Racing LC
491 RR LC
491 Sport LC
491 ST AC
Devil LC
K2 AC
K2 LC
Naked
Pepe AC
Pepe LX
Quattronove

ART Enduro (AM6)
ART Motard (AM6)
RK6 (AM6)
RR Alu Enduro (AM6)
RR Alu SM (AM6)
RR Enduro (AM6)
RR Motard (AM6)
RR SM (AM6)

Astro Enduro (EBE050) avant 2005
Lobito SM (EBE050) avant 2005

Aragon City
Aragon GP
Formula R
Freaky
GTR 50 LC
Hussar
Oliver
Popcorn

Astro (EBE050) avant 2005
GPR (EBS050) avant 2005
GPR Nude (EBS050) avant 2005
GPR R (EBS050) avant 2005
GPR Racing (EBS050) avant 2005
GPR50 Nude (D50B0) après 2005
GPR50 Racing (D50B0) après 2005
Lobito (EBE050) avant 2005
Senda R (EBE050) avant 2005
Senda R DRD (EBE050) avant 2005
Senda R DRD Devil (EBE050) avant 2005
Senda R DRD Pro (D50B0) après 2005
Senda R DRD Racing (D50B0) après 2005
Senda R DRD Racing (EBE050) avant 2005
Senda R DRD X-Treme (D50B0) après 2005
Senda R Racer (EBE050) avant 2005
Senda R X-Race (D50B0) après 2005
Senda R X-Race (EBE050) avant 2005
Senda R X-Treme (D50B0) après 2005
Senda R X-Treme (EBE050) avant 2005
Senda SM (EBE050) avant 2005
Senda SM DRD (EBE050) avant 2005
Senda SM DRD Evo (D50B0) après 2005
Senda SM DRD Pro (D50B0) après 2005
Senda SM DRD Racing (D50B0) après 2005
Senda SM DRD Racing (EBE050) avant 2005
Senda SM DRD X-Treme (D50B0) après 2005
Senda SM Racer (EBE050) avant 2005
Senda SM X-Race (D50B0) après 2005
Senda SM X-Race (EBE050) avant 2005
Senda SM X-Treme (D50B0) après 2005

Caballero Casa (AM6)
Caballero Motard (AM6)

Trigger Enduro (AM6)
Trigger SM (AM6)
Trigger SM (D50B0) après 2005
Trigger X (D50B0) après 2005

Cracker
Epico
Evolution
Ideo
Onyx
Race
Race II
Roc
Roc II
Toxic
Xor 50
Xor II 50

GSM (EBE050) avant 2005
H@K (EBE050) avant 2005
RCR (D50B0) après 2005
RCR (EBE050) avant 2005
SMT (D50B0) après 2005
SMT (EBE050) avant 2005
Zulu (EBE050) avant 2005

DNA
Easy Moving
ICE
Runner DD
Runner DT
Runner FL
Runner SP
Stalker
Stalker Naked
Storm

CRE Baja Basic Enduro (AM6)
CRE Baja RR Enduro (AM6)
CRE Six Compétiton (AM6)
CRE Six Enduro (AM6)
CRM Basic SM (AM6)
Derapage Compétiton (AM6)
Derapage RR (AM6)
Derapage SM (AM6)

Enduro (AM6)
Sonic Enduro (AM6)
Sonic II Enduro (AM6)
Sonic II SM (AM6)
Sonic SM (AM6)
Supermotard (AM6)

CH Racing (AM6)
SM (AM6)
WRE (AM6)
WRS (AM6)
WSM (AM6)
WXE (AM6)

Bazooka I
Bazooka II
Dragster
Formula
Jet-Set (Piaggio)
Pista 2
Scoop
Torpedo
Torpedo (Piaggio)

TX (AM6)
TX Enduro (AM6)
X Ray Enduro (AM6)
X Ray SM (AM6)

ARK AC
ARK LC
Chrono
GO
Quadra

Centro
Centro SL1
Centro SL2
Ciak
Crosser CR1
Crosser EL
F10
F10 Wap
F12 Phantom AC
F12 Phantom LC
F12 Phantom R
F15 Firefox
Yesterday

Drakon (AM6)
Drakon Naked (AM6)
XSM SM (AM6)
XTM Enduro (AM6)

X-Limit Enduro (AM6)
X-Limit SM (AM6)
X-Power (AM6)
X-Power R (AM6)

Booster Naked
Booster Naked 12"
Booster Naked 13"
Booster Next Generation
Booster Next Generation II
Booster Original
Booster Road
Booster Rocket
Booster Spirit
Booster Spirit 12"
Booster Track
Equalis
Evolis
Fizz
Flipper
Forte
Hot Champ
Mach G AC
Mach G LC
Nitro
Nitro F1
Nitro Naked
Ovetto
Ovetto One
Stunt
Stunt Naked

Furia Enduro (AM6)
Furia SM (AM6)
RX-R (AM6)
RX-SM (AM6)
RYZ Enduro (AM6)
RYZ SM (AM6)

Buxy
Elyseo
Elystar
Kisbee
Looxor
Ludix Blaster 10"
Ludix Blaster 12"
Ludix Blaster Furious
Ludix Classic
Ludix Elegance
Ludix One
Ludix Pro
Ludix Snake
Ludix Snake Furious 10"
Ludix Snake Furious 12"
Ludix Snake Naked
Ludix Trend
Metal-X
Speedake
Speedfight 1 AC
Speedfight 2 AC
Squab
SV 250
Vivacity 1
Vivacity 2
Zenith

NK7 (AM6)
XP6 Enduro (AM6)
XP6 SM (AM6)
XP7 SM (AM6)
XP7 Track (AM6)
XPS Enduro (AM6)
XPS SM (AM6)
XPS Street (AM6)
XPS Street EVO 2 (AM6)
XPS Street EVO 3 (AM6)
XPS Top Road (AM6)
XPS Track (AM6)
XR6 (AM6)
XR7 (AM6)

103 Chrono
103 Clip
103 Evolution
103 MVL
103 MVX
103 RCX AC
103 RCX LC
103 SP
103 SPX AC
103 SPX LC
103 Vogue VS2
103 Vogue VSM

Diesis
Fly
Free
Liberty
NRG (LC)
NRG MC2
NRG MC2 DD
NRG MC2 DT
NRG MC2 Extreme
NRG MC3 DD
NRG MC3 DT
NRG Power DD
NRG Power DT
NTT
Quartz
Sfera NSL
Sfera RST
Typhoon
Typhoon II
Typhoon X
Typhoon XR
Vespa PK
Vespa PK FL
Vespa PK XL
Vespa S
Vespa Special
Vespa Sprint
Vespa SS
Vespa V
Zip 2T (AC)
Zip Base 2T (AC)
Zip II 2T (LC)
Zip SP 2 2T (LC)
Zip SP 2T (LC)

MRT Enduro (AM6)
MRT SM (AM6)
MRX Enduro (AM6)
MRX Pro Enduro (AM6)
NKD (AM6)
NKD II (AM6)
RJ SM (AM6)
RJ Spike (AM6)
RR SM (AM6)
RR Sport Enduro (AM6)
RRX SM (AM6)
RRX Spike SM (AM6)
RS NKD (AM6)
RS Sport (AM6)
RS1 Evolution (AM6)
RS2 Matrix (AM6)
RS3 (AM6)
RS3 NKD (AM6)
SMX (AM6)
SMX Pro (AM6)
SMX Pro Street (AM6)
Spike (AM6)
Tango Enduro (AM6)
Tango Motard (AM6)

Speedforce
Speedjet
Speedjet R (LC)
SX1

Enduro Shark (AM6)
SE Enduro (AM6)
SE-R Enduro Factory (AM6)
SE-RS Enduro Factory (AM6)
SM (AM6)
SM Panther (AM6)
SM-R Factory (AM6)
SM-R Silver (AM6)
SM-RS Factory (AM6)
SM-RS Silver (AM6)
SU Urban (AM6)
SU Urban Base (AM6)

Racing Naked (D50B0)
Racing RME (D50B0)
Racing Scrambler (D50B0)
Racing SM (D50B0)

Baja Enduro (AM6)
Derapage SM (AM6)

Aerox
Aerox Naked II
Aerox SP
Bw's
Bw's Bump
Bw's Easy
Bw's Naked
Bw's Next Generation
Bw's Next Generation II
Bw's Original
Bw's R
Bw's Spy
Jog R AC
Jog RR LC
Jog Z
Jog ZR
Neo's
Slider
Slider Naked
Why
Zest

DT (AM6)
DTL (AM6)
DTR Enduro (AM6)
DTX SM (AM6)
TZR (AM6)

Related articles on blog
No related article on blog