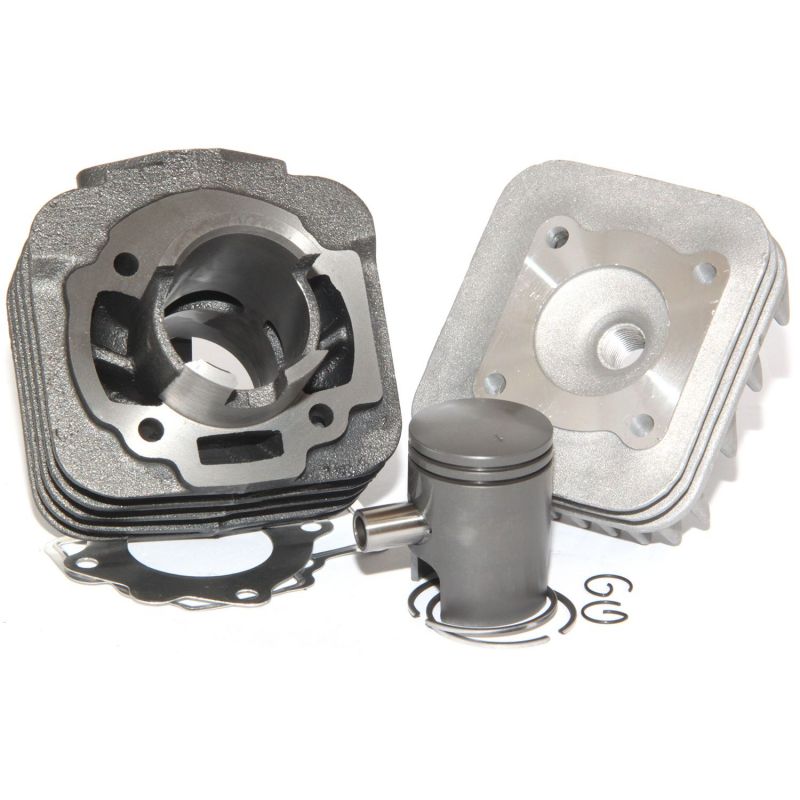  
Easyboost 50cc Cylinder Kit Cast Iron Piaggio AC Typhoon NRG
The Easyboost cylinder-piston-cylinder-head kit original type 50cc cast iron has the same characteristics as the original cylinder. It is therefore perfectly suitable for engine reconditioning.
The Easyboost original 50cc cast iron cylinder-piston-head kit is ideal for replacing a worn or tightened cylinder-piston assembly. 
The cylinder is made of a cast iron alloy, which guarantees very high reliability over time. 
The cylinder head is made of a high thermal conductivity aluminium in order to properly evacuate heat.
The piston is made of 2 rings to increase the reliability of the whole.
The delivery also contains the gasket kit.
Fit on :
All Piaggio AC 50cc 2-stroke engines: NRG ZIP TYPHOON ...
Compatibility
Habana Custom (Piaggio)
Mojito Custom (Piaggio)
Scarabeo (Piaggio)
Scarabeo Classic (Piaggio)
Scarabeo NET (Piaggio)
Scarabeo Street (Piaggio)

Easy Moving
ICE
Stalker
Stalker Naked
Storm

Jet-Set (Piaggio)
Torpedo
Torpedo (Piaggio)

Diesis
Fly
Free
Liberty
NRG MC2 DT
NRG MC3 DT
NRG Power DT
Sfera NSL
Sfera RST
Typhoon
Typhoon II
Typhoon X
Typhoon XR
Vespa S
Zip 2T (AC)
Zip Base 2T (AC)