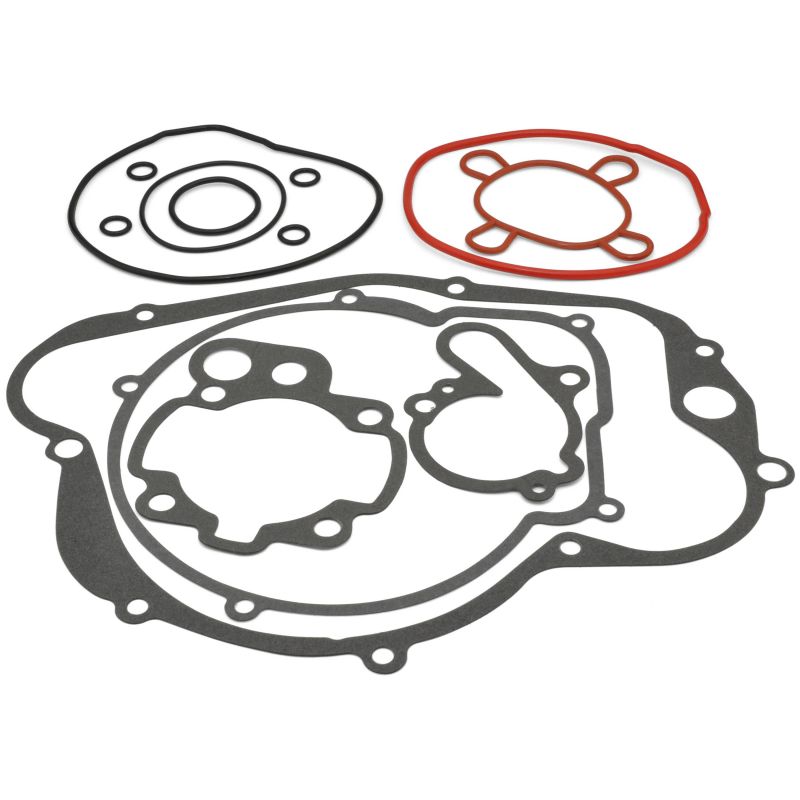  
Easyboost Engine Gasket Kit Complete for AM6 engine
The Easyboost engine gaskets for AM6 engines, compatible with several models such as MBK Xlimit, Xpower, Yamaha DT, TZR, Aprilia RS, Peugeot XP6-XPS, Beta, Rieju, Sherco, allow you to replace the gaskets easily after dismantling the crankcase.
The Easyboost gasket paper has been carefully selected to provide an optimal seal.
It is recommended to replace the engine gaskets every time you dismantle the engine to ensure optimal performance.
The French brand Easyboost is known for its high quality of manufacture which meets the standards of the manufacturers.
Compatibility
AF1 (AM6)
MX (AM6)
RS (AM6)
RX (AM6)
RX Enduro (AM6)
Tuono (AM6)

ART Enduro (AM6)
ART Motard (AM6)
RK6 (AM6)
RR Alu Enduro (AM6)
RR Alu SM (AM6)
RR Enduro (AM6)
RR Motard (AM6)
RR SM (AM6)

Caballero Casa (AM6)
Caballero Motard (AM6)

Trigger Enduro (AM6)
Trigger SM (AM6)
Trigger SM (D50B0) après 2005
Trigger X (D50B0) après 2005

CRE Baja Basic Enduro (AM6)
CRE Baja RR Enduro (AM6)
CRE Six Compétiton (AM6)
CRE Six Enduro (AM6)
CRM Basic SM (AM6)
Derapage Compétiton (AM6)
Derapage RR (AM6)
Derapage SM (AM6)

Enduro (AM6)
Sonic Enduro (AM6)
Sonic II Enduro (AM6)
Sonic II SM (AM6)
Sonic SM (AM6)
Supermotard (AM6)

CH Racing (AM6)
SM (AM6)
WRE (AM6)
WRS (AM6)
WSM (AM6)
WXE (AM6)

TX (AM6)
TX Enduro (AM6)
X Ray Enduro (AM6)
X Ray SM (AM6)

Drakon (AM6)
Drakon Naked (AM6)
XSM SM (AM6)
XTM Enduro (AM6)

X-Limit Enduro (AM6)
X-Limit SM (AM6)
X-Power (AM6)
X-Power R (AM6)

Furia Enduro (AM6)
Furia SM (AM6)
RX-R (AM6)
RX-SM (AM6)
RYZ Enduro (AM6)
RYZ SM (AM6)

NK7 (AM6)
XP6 Enduro (AM6)
XP6 SM (AM6)
XP7 SM (AM6)
XP7 Track (AM6)
XPS Enduro (AM6)
XPS SM (AM6)
XPS Street (AM6)
XPS Street EVO 2 (AM6)
XPS Street EVO 3 (AM6)
XPS Top Road (AM6)
XPS Track (AM6)
XR6 (AM6)
XR7 (AM6)

MRT Enduro (AM6)
MRT SM (AM6)
MRX Enduro (AM6)
MRX Pro Enduro (AM6)
NKD (AM6)
NKD II (AM6)
RJ SM (AM6)
RJ Spike (AM6)
RR SM (AM6)
RR Sport Enduro (AM6)
RRX SM (AM6)
RRX Spike SM (AM6)
RS NKD (AM6)
RS Sport (AM6)
RS1 Evolution (AM6)
RS2 Matrix (AM6)
RS3 (AM6)
RS3 NKD (AM6)
SMX (AM6)
SMX Pro (AM6)
SMX Pro Street (AM6)
Spike (AM6)
Tango Enduro (AM6)
Tango Motard (AM6)

Enduro Shark (AM6)
SE Enduro (AM6)
SE-R Enduro Factory (AM6)
SE-RS Enduro Factory (AM6)
SM (AM6)
SM Panther (AM6)
SM-R Factory (AM6)
SM-R Silver (AM6)
SM-RS Factory (AM6)
SM-RS Silver (AM6)
SU Urban (AM6)
SU Urban Base (AM6)

Baja Enduro (AM6)
Derapage SM (AM6)

DT (AM6)
DTL (AM6)
DTR Enduro (AM6)
DTX SM (AM6)
TZR (AM6)