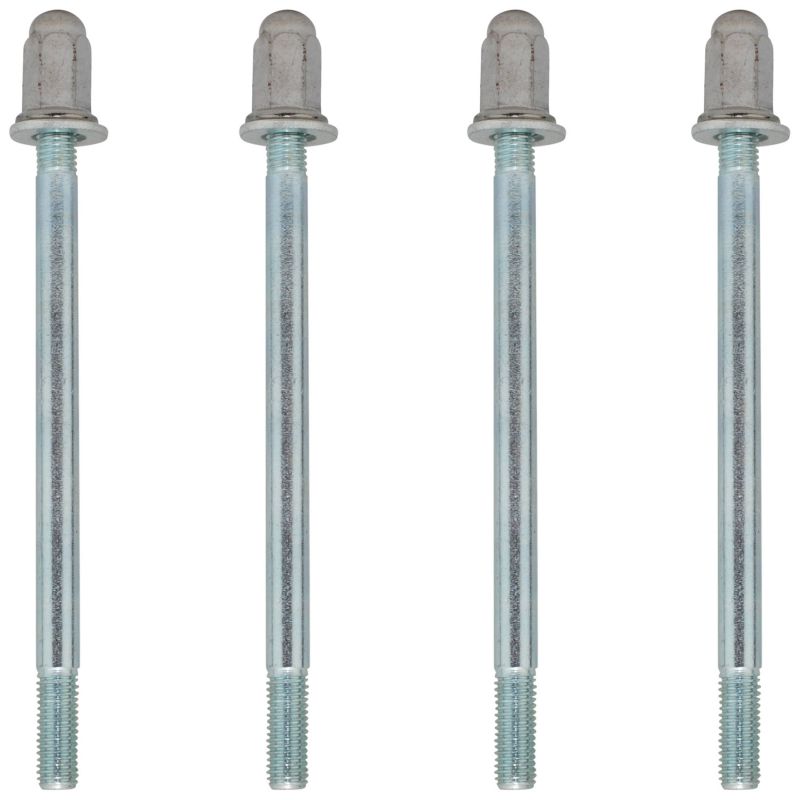  
4 Cylinder studs M7 x 115mm with Easyboost AM6
The 4 Easyboost M7 x 115mm cylinder studs for AM6 allow you to replace studs that have worn out over time.
The studs are made of high-strength steel to ensure that the cylinder-head assembly is properly tightened.
We recommend to apply threadlocker to the screwed part in the crankcase.
The kit includes 4 studs M7 x 115mm, 4 nuts M7.
Compatibility
AF1 (AM6)
MX (AM6)
RS (AM6)
RX (AM6)
RX Enduro (AM6)
Tuono (AM6)

ART Enduro (AM6)
ART Motard (AM6)
RK6 (AM6)
RR Alu Enduro (AM6)
RR Alu SM (AM6)
RR Enduro (AM6)
RR Motard (AM6)
RR SM (AM6)

Caballero Casa (AM6)
Caballero Motard (AM6)

Trigger Enduro (AM6)
Trigger SM (AM6)

CRE Baja Basic Enduro (AM6)
CRE Baja RR Enduro (AM6)
CRE Six Compétiton (AM6)
CRE Six Enduro (AM6)
CRM Basic SM (AM6)
Derapage Compétiton (AM6)
Derapage RR (AM6)
Derapage SM (AM6)

Enduro (AM6)
Sonic Enduro (AM6)
Sonic II Enduro (AM6)
Sonic II SM (AM6)
Sonic SM (AM6)
Supermotard (AM6)

CH Racing (AM6)
SM (AM6)
WRE (AM6)
WRS (AM6)
WSM (AM6)
WXE (AM6)

TX (AM6)
TX Enduro (AM6)
X Ray Enduro (AM6)
X Ray SM (AM6)

Drakon (AM6)
Drakon Naked (AM6)
XSM SM (AM6)
XTM Enduro (AM6)

X-Limit Enduro (AM6)
X-Limit SM (AM6)
X-Power (AM6)
X-Power R (AM6)

Furia Enduro (AM6)
Furia SM (AM6)
RX-R (AM6)
RX-SM (AM6)
RYZ Enduro (AM6)
RYZ SM (AM6)

NK7 (AM6)
XP6 Enduro (AM6)
XP6 SM (AM6)
XP7 SM (AM6)
XP7 Track (AM6)
XPS Enduro (AM6)
XPS SM (AM6)
XPS Street (AM6)
XPS Street EVO 2 (AM6)
XPS Street EVO 3 (AM6)
XPS Top Road (AM6)
XPS Track (AM6)
XR6 (AM6)
XR7 (AM6)

MRT Enduro (AM6)
MRT SM (AM6)
MRX Enduro (AM6)
MRX Pro Enduro (AM6)
NKD (AM6)
NKD II (AM6)
RJ SM (AM6)
RJ Spike (AM6)
RR SM (AM6)
RR Sport Enduro (AM6)
RRX SM (AM6)
RRX Spike SM (AM6)
RS NKD (AM6)
RS Sport (AM6)
RS1 Evolution (AM6)
RS2 Matrix (AM6)
RS3 (AM6)
RS3 NKD (AM6)
SMX (AM6)
SMX Pro (AM6)
SMX Pro Street (AM6)
Spike (AM6)
Tango Enduro (AM6)
Tango Motard (AM6)

Enduro Shark (AM6)
SE Enduro (AM6)
SE-R Enduro Factory (AM6)
SE-RS Enduro Factory (AM6)
SM (AM6)
SM Panther (AM6)
SM-R Factory (AM6)
SM-R Silver (AM6)
SM-RS Factory (AM6)
SM-RS Silver (AM6)
SU Urban (AM6)
SU Urban Base (AM6)

Baja Enduro (AM6)
Derapage SM (AM6)

DT (AM6)
DTL (AM6)
DTR Enduro (AM6)
DTX SM (AM6)
TZR (AM6)