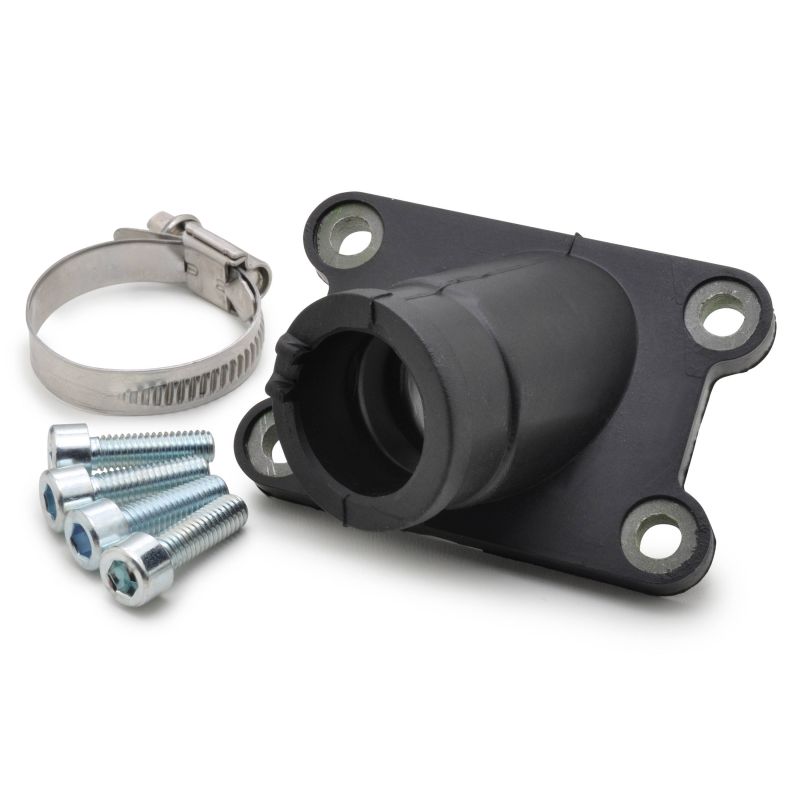  
Easyboost Intake pipe 12-21mm for AM6
The Easyboost intake pipe original type 12-21mm for AM6 allows you to replace a worn or cracked original intake pipe.
The materials used in the Easyboost intake pipe have been carefully selected to guarantee a good flexibility and a long life.
The technical characteristics of the Easyboost intake pipe are identical to the original intake pipe.
This inlet pipe allows the installation of a 12mm, 14mm, 16mm, 17.5mm, 19mm or 21mm carburettor.
The delivery includes 4 CHC screws M6x20 and a zinc-plated steel clamp.
Compatibility
AF1 (AM6)
MX (AM6)
RS (AM6)
RX (AM6)
RX Enduro (AM6)
Tuono (AM6)

ART Enduro (AM6)
ART Motard (AM6)
RK6 (AM6)
RR Alu Enduro (AM6)
RR Alu SM (AM6)
RR Enduro (AM6)
RR Motard (AM6)
RR SM (AM6)

Caballero Casa (AM6)
Caballero Motard (AM6)

Trigger Enduro (AM6)
Trigger SM (AM6)

CRE Baja Basic Enduro (AM6)
CRE Baja RR Enduro (AM6)
CRE Six Compétiton (AM6)
CRE Six Enduro (AM6)
CRM Basic SM (AM6)
Derapage Compétiton (AM6)
Derapage RR (AM6)
Derapage SM (AM6)

Enduro (AM6)
Sonic Enduro (AM6)
Sonic II Enduro (AM6)
Sonic II SM (AM6)
Sonic SM (AM6)
Supermotard (AM6)

CH Racing (AM6)
SM (AM6)
WRE (AM6)
WRS (AM6)
WSM (AM6)
WXE (AM6)

TX (AM6)
TX Enduro (AM6)
X Ray Enduro (AM6)
X Ray SM (AM6)

Drakon (AM6)
Drakon Naked (AM6)
XSM SM (AM6)
XTM Enduro (AM6)

X-Limit Enduro (AM6)
X-Limit SM (AM6)
X-Power (AM6)
X-Power R (AM6)

Furia Enduro (AM6)
Furia SM (AM6)
RX-R (AM6)
RX-SM (AM6)
RYZ Enduro (AM6)
RYZ SM (AM6)

NK7 (AM6)
XP6 Enduro (AM6)
XP6 SM (AM6)
XP7 SM (AM6)
XP7 Track (AM6)
XPS Enduro (AM6)
XPS SM (AM6)
XPS Street (AM6)
XPS Street EVO 2 (AM6)
XPS Street EVO 3 (AM6)
XPS Top Road (AM6)
XPS Track (AM6)
XR6 (AM6)
XR7 (AM6)

MRT Enduro (AM6)
MRT SM (AM6)
MRX Enduro (AM6)
MRX Pro Enduro (AM6)
NKD (AM6)
NKD II (AM6)
RJ SM (AM6)
RJ Spike (AM6)
RR SM (AM6)
RR Sport Enduro (AM6)
RRX SM (AM6)
RRX Spike SM (AM6)
RS NKD (AM6)
RS Sport (AM6)
RS1 Evolution (AM6)
RS2 Matrix (AM6)
RS3 (AM6)
RS3 NKD (AM6)
SMX (AM6)
SMX Pro (AM6)
SMX Pro Street (AM6)
Spike (AM6)
Tango Enduro (AM6)
Tango Motard (AM6)

Enduro Shark (AM6)
SE Enduro (AM6)
SE-R Enduro Factory (AM6)
SE-RS Enduro Factory (AM6)
SM (AM6)
SM Panther (AM6)
SM-R Factory (AM6)
SM-R Silver (AM6)
SM-RS Factory (AM6)
SM-RS Silver (AM6)
SU Urban (AM6)
SU Urban Base (AM6)

Baja Enduro (AM6)
Derapage SM (AM6)

DT (AM6)
DTL (AM6)
DTR Enduro (AM6)
DTX SM (AM6)
TZR (AM6)