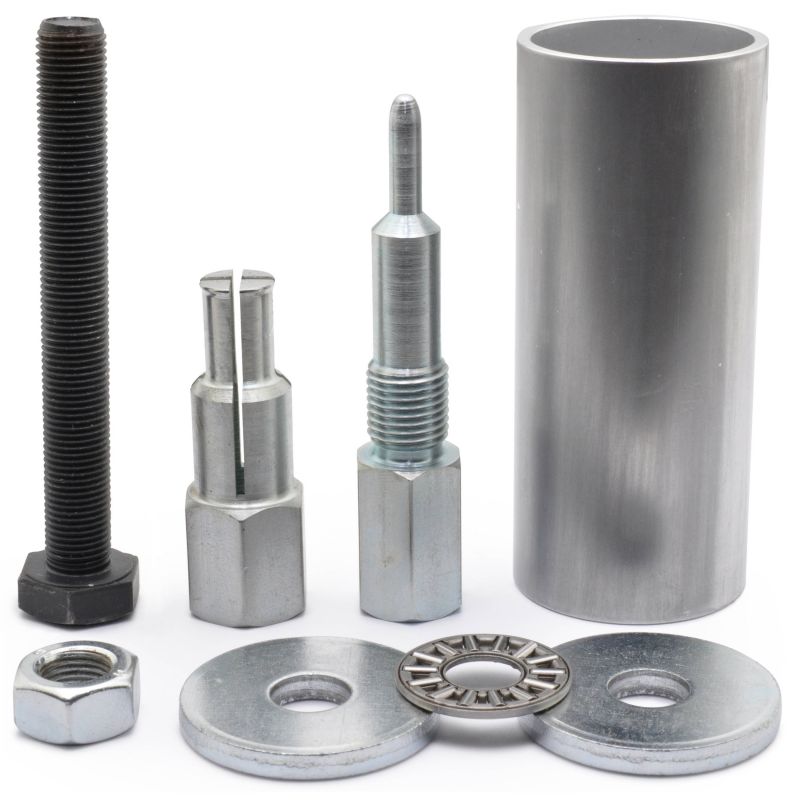  
Transmission bearing puller for Yamaha Aerox Jog-R Aprilia SR
The Easyboost transmission bearing puller allows to easily replace the transmission bearings of a vertical/horizontal Minarelli crankcase (Yamaha Aerox, Jog-R, Aprilia SR...)
The transmission bearings of a Minarelli crankcase are mounted in the engine casing without the possibility to remove them if you don't have the right tool.
To solve this problem, Easyboost has developed an economical transmission bearing puller, specially designed for all Minarelli crankcases. Thanks to its innovative design, the extraction of the crankcase bearings is now child's play!
The tool consists of several parts, machined from high-strength materials to ensure a long service life.
Before removing a bearing, it is advisable to heat the housing with a gas lamp or heat gun. This expands the bearing housing and prevents damage.
Compatibility
Scarabeo (Minarelli Horizontal)
Scarabeo DD (Minarelli horizontal)
SR (Minarelli Horizontal LC)
SR Netscaper (Minarelli Horizontal LC)
SR Replica (Minarelli Horizontal LC)
SR Replica (Minarelli Vertical)
SR Stealth (Minarelli Horizontal LC)
SR WWW AC (Minarelli Horizontal)
SR WWW LC (Minarelli Horizontal)

F10
F10 Wap
F12 Phantom AC
F12 Phantom LC
F12 Phantom R
F15 Firefox

Booster Naked
Booster Naked 12"
Booster Naked 13"
Booster Next Generation
Booster Next Generation II
Booster Original
Booster Road
Booster Rocket
Booster Spirit
Booster Spirit 12"
Booster Track
Equalis
Evolis
Fizz
Flipper
Forte
Hot Champ
Mach G AC
Mach G LC
Nitro
Nitro F1
Nitro Naked
Ovetto
Ovetto One
Stunt
Stunt Naked

Aerox
Aerox Naked II
Aerox SP
Bw's
Bw's Bump
Bw's Easy
Bw's Naked
Bw's Next Generation
Bw's Next Generation II
Bw's Original
Bw's R
Bw's Spy
Jog R AC
Jog RR LC
Jog Z
Jog ZR
Neo's
Slider
Slider Naked
Why
Zest