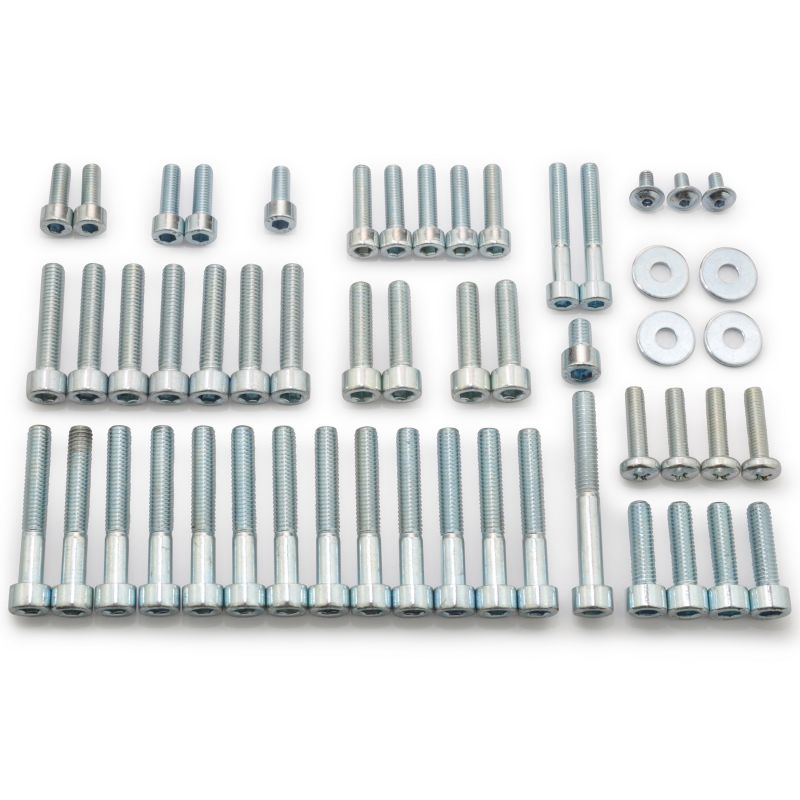  
Easyboost variator cover screws galvanised steel for AM6
The Easyboost screw kit for the AM6 engine lets you refurbish all the screws in the crankcase.
The bolt kit is compatible with all 50cc motorbikes fitted with the AM6 engine, such as Yamaha TZR, DT, MBK Xlimit, Xpower, Aprilia RS, Peugeot XP6-XPS, Beta, Rieju, Sherco...
The Easyboost housing bolt kit is made from high-strength steel to guarantee long life. The screws are treated with a galvanising process to protect them from corrosion.
The technical characteristics of Easyboost screws are identical to those of the original.
The kit contains screws for the intake pipe, crankcase, pinion cover, ignition cover, starter, clutch housing, water pump, oil pump, covers, clutch...
Supplied with 53 screws.
Compatibility
AF1 (AM6)
MX (AM6)
RS (AM6)
RS (D50B0) après 2005
RS4 (D50B0) après 2005
RX (AM6)
RX Enduro (AM6)
RX Enduro (D50B0) après 2005
SX SM (D50B0)
Tuono (AM6)

ART Enduro (AM6)
ART Motard (AM6)
RK6 (AM6)
RR Alu Enduro (AM6)
RR Alu SM (AM6)
RR Enduro (AM6)
RR Motard (AM6)
RR SM (AM6)

Caballero Casa (AM6)
Caballero Motard (AM6)

CRE Baja Basic Enduro (AM6)
CRE Baja RR Enduro (AM6)
CRE Six Compétiton (AM6)
CRE Six Enduro (AM6)
CRM Basic SM (AM6)
Derapage Compétiton (AM6)
Derapage RR (AM6)
Derapage SM (AM6)

Enduro (AM6)
Sonic Enduro (AM6)
Sonic II Enduro (AM6)
Sonic II SM (AM6)
Sonic SM (AM6)
Supermotard (AM6)

CH Racing (AM6)
SM (AM6)
WRE (AM6)
WRS (AM6)
WSM (AM6)
WXE (AM6)

TX (AM6)
TX Enduro (AM6)
X Ray Enduro (AM6)
X Ray SM (AM6)

Drakon (AM6)
Drakon Naked (AM6)
XSM SM (AM6)
XTM Enduro (AM6)

X-Limit Enduro (AM6)
X-Limit SM (AM6)
X-Power (AM6)
X-Power R (AM6)

Furia Enduro (AM6)
Furia SM (AM6)
RX-R (AM6)
RX-SM (AM6)
RYZ Enduro (AM6)
RYZ SM (AM6)

NK7 (AM6)
XP6 Enduro (AM6)
XP6 SM (AM6)
XP7 SM (AM6)
XP7 Track (AM6)
XPS Enduro (AM6)
XPS SM (AM6)
XPS Street (AM6)
XPS Street EVO 2 (AM6)
XPS Street EVO 3 (AM6)
XPS Top Road (AM6)
XPS Track (AM6)
XR6 (AM6)
XR7 (AM6)

MRT Enduro (AM6)
MRT SM (AM6)
MRX Enduro (AM6)
MRX Pro Enduro (AM6)
NKD (AM6)
NKD II (AM6)
RJ SM (AM6)
RJ Spike (AM6)
RR SM (AM6)
RR Sport Enduro (AM6)
RRX SM (AM6)
RRX Spike SM (AM6)
RS NKD (AM6)
RS Sport (AM6)
RS1 Evolution (AM6)
RS2 Matrix (AM6)
RS3 (AM6)
RS3 NKD (AM6)
SMX (AM6)
SMX Pro (AM6)
SMX Pro Street (AM6)
Spike (AM6)
Tango Enduro (AM6)
Tango Motard (AM6)

Enduro Shark (AM6)
SE Enduro (AM6)
SE-R Enduro Factory (AM6)
SE-RS Enduro Factory (AM6)
SM (AM6)
SM Panther (AM6)
SM-R Factory (AM6)
SM-R Silver (AM6)
SM-RS Factory (AM6)
SM-RS Silver (AM6)
SU Urban (AM6)
SU Urban Base (AM6)

Baja Enduro (AM6)
Derapage SM (AM6)

DT (AM6)
DTL (AM6)
DTR Enduro (AM6)
DTX SM (AM6)
TZR (AM6)